INTRODUCTION
The population of dogs as companion animals has increased in the last few decades. The need to provide proper cares for the health and well-being of dogs has also increased, such as premium pet foods and advanced medical services. As dogs receive more care, their health and lifespan expand, which increases the geriatric population of dogs [1]. Like humans, dogs experience age-associated changes in a variety of physiological and metabolic aspects [2]. To maintain homeostasis in body systems it is important to provide essential and balanced nutrients. Currently, it is also common to feed dogs pet foods with functional ingredients which are used to help human health to delay aging or prevent the development of age-related diseases [3-5]. How ever, the current knowledge on proper nutrients and ingredients for aged dogs is limited.
Hericium erinaceus (H. erinaceus; HE) also known as Lion's mane mushroom is a widely used medicinal mushroom with an extensive history. H. erinaceus contains several biologically active substances which are responsible for anti-cancer, anti-inflammation, anti-oxidation, etc. [6-10]. The most well-known medicinal substances of H. erinaceus are erinacines and hericerin which stimulate nerve growth factor (NGF) biosynthesis [11]. NGF acts as a neurotrophic factor and is involved in the survival, growth, and maintenance of neuronal cells [12-14]. Ergothioneine is a naturally occurring betaine amino acid produced by only certain bacteria and fungi [15]. Mushrooms are rich sources of ergothioneine including H. erinaceus [16]. The amount of ergothioneine in various mushrooms is correlated with the antioxidant capacity measured by in-vitro tests [17], and it was demonstrated that ergothioneine acts as an antioxidant in vivo and in vitro [18]. H. erinaceus also contains a large number of polyphenols that act as strong antioxidants and, anti-inflammatory substances and have anti-cancerous roles [19]. H. erinaceus extract administration prevented neurons from ischemic injury and improved cognitive function [20,21]. Additionally, H. erinaceus treatment in vascular endothelial cells induced antioxidant activity with antiangiogenic and anti-inflammatory activities, which may have anti-cancer properties [22]. Although H. erinaceus has various beneficial aspects, there are few studies on its effects on the health of dogs.
The importance of the gut microbiome in host health was widely researched. Gut microbiota digests variable prebiotics of non-digestible carbohydrates and produces fermentative by-products that can contribute to the health of the host [23]. H. erinaceus can be used as prebiotics for gut microbiota that could transforms polyphenols in H. erinaceus into a more bioactive low-molecular weight metabolite [24]. Additionally, the supplementation of H. erinaceus increased gut microbiota producing short-chain fatty acids in healthy adults that can be used by intestinal epithelial cells to enhance the gut barrier function [25]. Furthermore, it is reported that H. erinaceus could influence the relative abundance of beneficial gut microbiota composition, such as Lachnospiraceae and Akkermansiaceae [26]. It is reported that the specific gut microbiome pattern can be related to aging which could predict survival in humans [27]. Besides the accumulated information on H. erinaceus in gut microbiota, their effects on the gut microbiota in aged dogs have not been investigated. Hence, we evaluated the influence of H. erinaceus on the gut microbiome of dogs by taxonomic profiling using metagenomics. The resulting finding would be an essential source to study the gut microbiota, which can be used to provide better health care for aged dogs.
RESULTS AND DISCUSSION
DNA sequencing throughput stats and microbiome diversity
The Phred quality scores of raw data produced over 33, and the amount of average reads was 102,166 ± 7,215 in eighteen samples (Table 2). The low-quality reads were filtered (quality score < 25) after importing data at QIIME2 (ver. 2020.11), trimmed using primers for sequencing, and then chimera reads were removed according to consensus options. The average number of ASVs for microbiome analysis was 60,321 ± 5,272. Alpha diversity of species evenness (Evenness estimator), richness (Observed features, Chao1 index), and diversity (Shannon index) were analyzed to estimate the diversity of microbiota in each sample (Table 3). In the control group (CON) fed with a diet without HE, the observed features were 192.4 ± 39.22, Shannon index was 5.6 ± 0.37, evenness was 0.7 ± 0.04, and Chao1 index was 192.6 ± 39.15. In the group fed with a diet of 0.4 g per body weight HE (HE-L), alpha diversity of the mean values of observed features, Shannon index, Evenness, and Choa1 index were 195.4 ± 51.6, 5.2 ± 0.66, 0.7 ± 0.07, and 195.5 ± 51.63, respectively. The richness of microbial diversity in HE-L tended to increase compared with that of the CON, but there was no significant difference. In the group fed with a diet of 0.8 g HE per body weight (HE-H), the observed feature, Shannon index, Evenness, and Chao1 indices were 180.8 ± 34.10, 5.3 ± 0.47, 0.7 ± 0.05, and 181.1 ± 34.23, respectively. The richness of microbial diversity in HE-H showed a tendency to decrease compared to that of the CON, but there was no significant difference. Based on the results, the gut microbial environment of aged dogs was not disturbed by H. erinaceus with respect to the richness and diversity of microbiota. Alpha diversity reflects the overall degree of richness and evenness and shows the microbiome diversity within a sample. After feeding H. erinaceus to aged dogs, the gut microbiome diversity was unchanged and stably maintained. However, earlier reports showed different results compared to that of the current study. The richness of gut microbiota in Kunming mice was increased when mouse were gavaged for 28 days with H. erinaceus at 500 mg/kg and 1,000 mg/kg, respectively [26]. Furthermore, the Shannon index increased in BALB/c mice when 100 mg/kg of H. erinaceus was orally administrated for 21 days [33]. Despite the H. erinaceus concentration being higher than that used in our experiments, the species difference between mice and dogs would be affected. Additionally, Turner [34] reported that the anatomical position of the digestive system had an important effect on the evaluation of gut microbiota.
| Sample-id | Group | Input | Filtered | Denoise | Merged | Non-chimeric |
| --- | --- | --- | --- | --- | --- | --- |
| C2-1 | CON | 92526 | 80625 | 79394 | 74900 | 53305 |
| C2-2 | CON | 106559 | 93358 | 92727 | 83277 | 58403 |
| C2-3 | CON | 108517 | 95954 | 94368 | 89609 | 67646 |
| C2-4 | CON | 109942 | 96474 | 93438 | 86881 | 65839 |
| C2-5 | CON | 107238 | 96234 | 94123 | 87696 | 64505 |
| C2-6 | CON | 111296 | 98599 | 96432 | 89855 | 66081 |
| T1-1 | HE-L | 112033 | 98977 | 97648 | 92921 | 59231 |
| T1-2 | HE-L | 97660 | 86009 | 83711 | 77688 | 54637 |
| T1-3 | HE-L | 96495 | 84262 | 82119 | 76035 | 56370 |
| T1-4 | HE-L | 106150 | 93839 | 91346 | 84423 | 63920 |
| T1-5 | HE-L | 105953 | 93036 | 91595 | 87238 | 64976 |
| T1-6 | HE-L | 106342 | 93807 | 91513 | 85083 | 61415 |
| T2-1 | HE-H | 101852 | 90557 | 89064 | 84894 | 64756 |
| T2-2 | HE-H | 98872 | 86882 | 84837 | 78323 | 56512 |
| T2-3 | HE-H | 90928 | 80589 | 78647 | 72837 | 54716 |
| T2-4 | HE-H | 87720 | 77559 | 76119 | 70781 | 49704 |
| T2-5 | HE-H | 97913 | 86257 | 84582 | 80179 | 64768 |
| T2-6 | HE-H | 100987 | 88649 | 87616 | 83072 | 58996 |
Number of non-chimeric reads were used for investigation of gut-microbiota after filtered out by DADA2.
Download Excel Table
Alpha diversity
Group
Kruskal-Wallis
CON
HE - L
HE - H
p-value
Observed features ± SD
192.43 ± 39.22
195.43 ± 51.60
180.86 ± 34.10
0.566
Shannon's index ± SD
5.64 ± 0.37
5.26 ± 0.66
5.37 ± 0.47
0.530
Evenness ± SD
0.75 ± 0.04
0.70 ± 0.07
0.72 ± 0.05
0.139
Chao1 estimates ± SD
192.60 ± 39.15
195.58 ± 51.63
181.13 ± 34.23
0.561
Download Excel Table
Next, the weighted and unweighted unique fraction metric (UniFrac) distance was analyzed to confirm the difference in the gut-microbiota composition changed by H. erinaceus intake among groups (Fig. 1). Hence, HE-H had a significant difference with the CON in weighted Unifrac distance (p = 0.047). It implied that diet intake with 0.8 g H. erianceus for 16 weeks changed the gut microbiota composition in aged dogs. However, there was no difference in the unweighted Unifrac distance which is consistent with no difference in the microbial richness. HE-L showed no different distance of microbiota communities in both CON and HE-H. Therefore, HE-L did not critically affect the gut microbiota ecosystems, and HE-H changed the proportion of microbes although it did not result in a significant difference in alpha diversity measurements.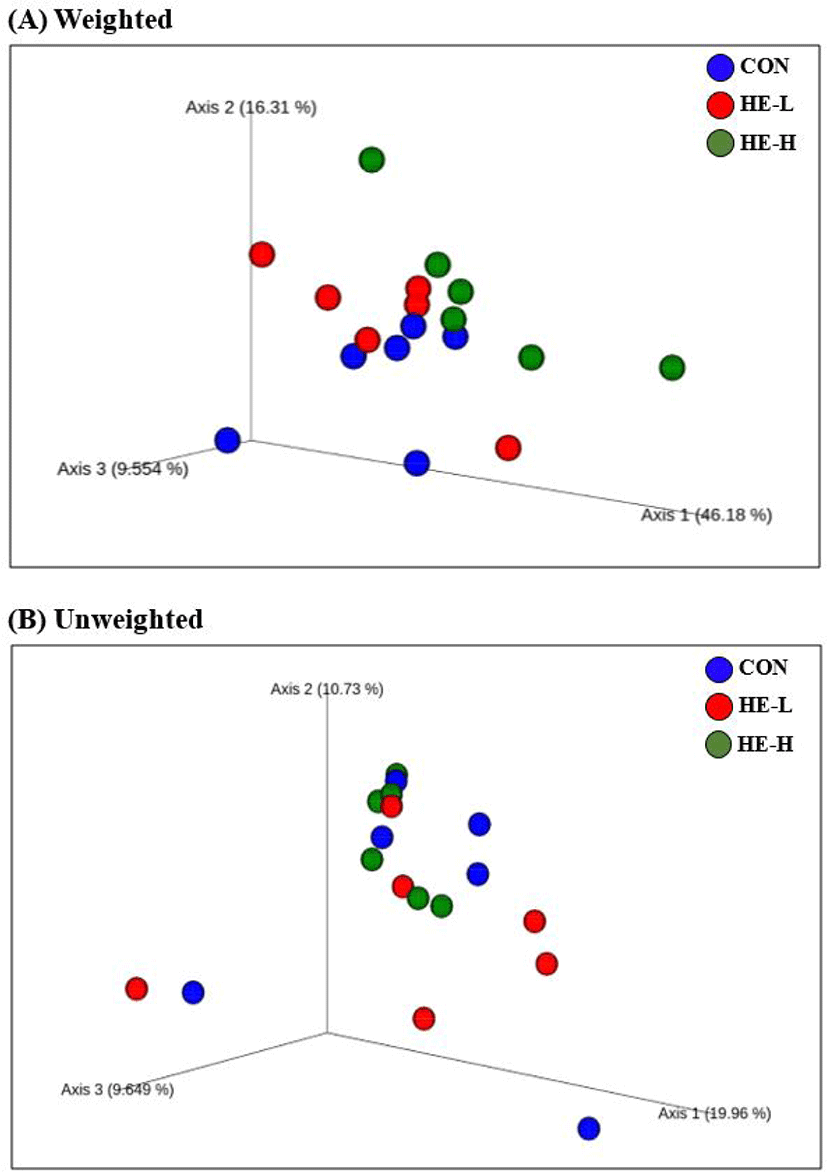 Download Original Figure
Taxonomic assignment and gut microbial compositions
To determine the effect of H. erinaceus intake on the proportion of gut microbial, ASVs were taxonomically classified using the q2-feature-classifier (Fig. 2). At the phylum level in the CON, Firmicutes (52.29%), Bacteroidetes (28.34%), and Fusobacteriota (11.43%) were the most relatively abundant taxa. The top 10 relatively abundant genus were Bacteroides (14.54%), Faecalibacterium (9.57%), Fusobacterium (9.36%), Blautia (8.32%), Peptoclostridium (5.91%), Prevotella (5.48%), Alloprevotella (4.92%), Escheriachia-Shigella (3.15%), Clostridium sensu stricto_1 (2.83%), and Ruminococcus gnavus group (2.19%). Firmicutes, which was the most dominant microbe at the phylum level, was reduced in both HE-L (47.99%) and HE-H (29.58%) after feeding on a diet containing H. erinaceus for 16 weeks. Contrastingly, Bacteroidetes in HE-L and HE-H increased to 28.94% and 51.19%, respectively. At the genus level, Fusobacterium (17.78%), Bacteroidetes (15.09%), and Blautia (12.47%) were the most relatively abundant taxa in HE-L. At the genus level in HE-H, Bacteroidetes (22.22%), Prevotella (17.08%), and Fusobacterium (11.66%) were the most relatively abundant taxa. Prevotella is known to be increased when consuming a fiber-rich diet [35], and Blautia was earlier reported that it is highly related to visceral fat accumulation [36]. Therefore, it would be possible that H. erinaceus is related to anti-obesity. The pair-end t-test results by the relative abundance of ASVs showed that there was no difference in genera between the CON and HE-L (data are not shown). In HE-H, when compared with CON, the genus Prevotella increased (p = 0.044), and Tyzzerella, a genus of the family Lachnospiraceae, reduced (p = 0.027).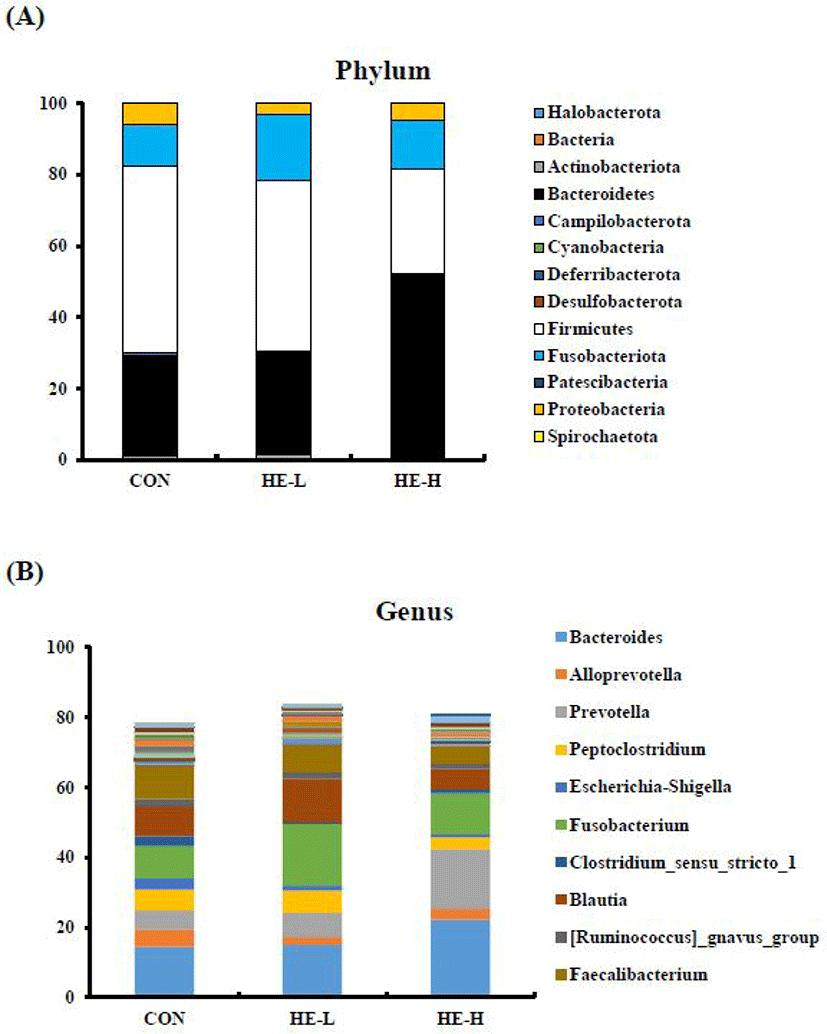 Download Original Figure
LEfSe analysis was performed to identify biomarkers among groups (Fig. 3). First, the results showed that the difference between the CON and HE-L was not found at the phylum level, and HE-L showed only a decrease in the genera Propionigenum (Fig. 3A). Comparing CON and HE-H, Bacteroidetes significantly increased in HE-H and Firmicutes significantly increased in CON at the phylum level (Fig. 3B). Microbes that are included in Bacteroidetes at the phylum, such as class Bacteroidia and order Bacteroidales also increased in HE-H (Fig. 3C). Additionally, microbes that are included in phylum Firmicutes, such as Clostridia at class, Lachnospirales and Lactobacillales at order, Lachnospiraceae, Campylobacteraceae, and Streptococcaceae at family, and Campylobacter, Streptococcus, and Tyzzerella at genus were found in high level in the CON group. Firmicutes and Bacteroidetes were reported to be the predominant phyla in the gut of dogs [37-39]. The ratio of Firmicutes/Bacteroidetes (F/B) was associated with the balance of the microbiome ecosystem and an appropriate ratio of F/B is important to create a healthy gut microbiota community [40]. Many studies reported that the ratio of F/B increases in obese dogs [41,42]. Firmicutes was a phyla that is increased by a high-calorie diet and mostly in obesity [43-45]. Bacteroidetes were associated with weight loss and abundant phylum taxa of dogs fed a diet of high-protein and low carbohydrate [43,46]. In the current study, we found that the decrease in the F/B ratio would reflect the anti-obesity ability of H. erinaceus. However, there is limited information on the F/B ratio in dogs, and it is necessary to accumulate microbiome data through various studies on dogs.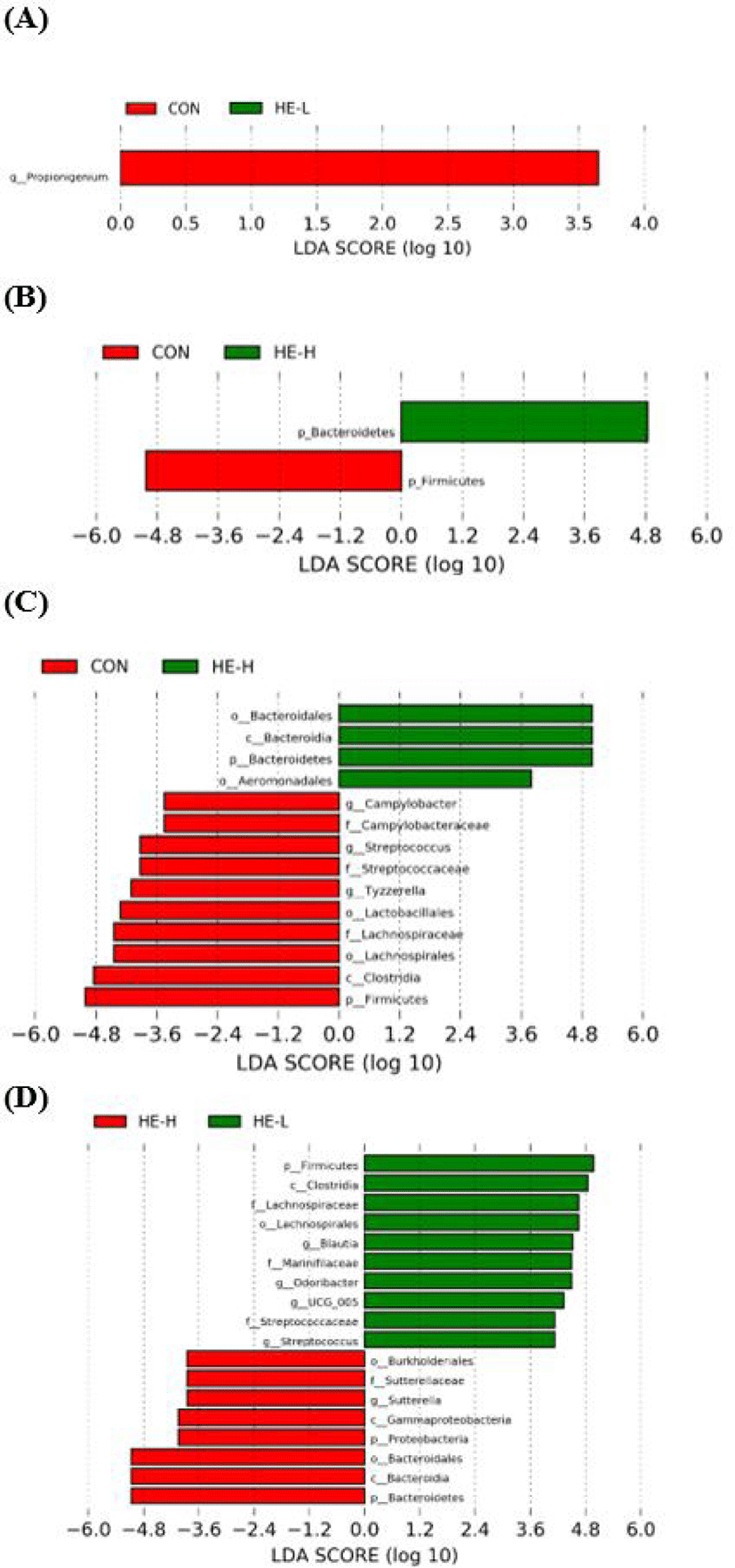 Download Original Figure
Additionally, the reduction of genera Campylobacter, Streptococcus, and Tyzzerella in HE-H were observed. Campylobacter infections are one of the most common causes of diarrhea in humans, and it is a genus in which various probiotics are developed to reduce the abundance in the gut [47-49]. The abundance of Streptococcus was associated with inflammatory reaction and atherosclerosis [50,51]. Tyzzerella was increased in cardiovascular disease risk, and also asymptomatic and symptomatic in patients with viral infections severe acute respiratory syndrome coronavirus 2 (SARS-CoV-2) increased in the gut [52,53]. Additionally, Tyzzerella was related to chronic intestinal inflammation by change of abundance [54]. Furthermore, the order of Aeromonadales increased even though the family Campylobacteraceae and its genus Campylobacter which are included at the same phylum level reduced in HE-H. It could be the result of positive interaction between those microorganisms for mutual competition or survival, which is an important part of the evolution of microorganisms [55-58]. In the comparative analysis between the two concentrations (0.4 g and 0.8 g) of H. erinaceus, no significant difference was found (Fig. 3D). The optimal concentration of H. erinaceus is important in terms of the safety of pet food. In this study, we found that the concentration of H. erinaceus can maintain the richness and diversity of the gut microbial environment of dogs. It would support that H. erinaceus would be safe to be used in pet foods.
H. erinaceus is known to have health benefits including anti-inflammation and anti-obesity [59,60]. In this study, we investigated the changes in gut microbial abundance induced by diet with H. erinaceus in aged dogs. The population of genera Campylobacter, Streptococcus, and Tyzzerella is involved in inflammation, and the F/B ratio which is related to obesity was reduced after feeding on H. erinaceus. It would support that the intake of H. erinaceus improves the immunity of aged dogs and helps body weight control by regulating the gut microbial environment. It may provide insights into the possibility of H. erinaceus as a functional ingredient used in pet foods. As the data related to H. erinaceus intake and its effect on the microbiome in dogs are limited, this result can be useful information to further study the influence of H. erinaceus in dogs.