Recently, the genus Lactobacillus was divided into several genera [1], with the species Lactobacillus fermentum being assigned to the genus Limosilactobacillus.Limosilactobacillus fermentum is one of hetero-fermentatives and is used in the fermentation of milk, plants, and silage. Limosilactobacillus fermentum strains not only enhance the nutritional value and flavor of food but also its functional properties. This species has strong pH tolerance and good bile tolerance, and it can also reduce cholesterol content in the human body [2]. In addition, L. fermentum can inhibit harmful intestinal microbiota, lessen the activity of food allergens, reduce mutagenic and carcinogenic activities, display immunomodulatory activity, and lower cholesterol [3,4]. Limosilactobacillus fermentum JNU532 was isolated from local fermented kimchi in this study. In our previous study, an L. fermentum JNU532–derived fermentation broth demonstrated antioxidant properties and the ability to reduce melanin production by inhibiting the activity of tyrosinase in B16F10 melanoma cells. Therefore, L. fermentum JNU532 may be considered a natural depigmentation agent. [5].
L. fermentum JNU532 was cultivated in Man-Rogosa-Sharpe (MRS) medium (Becton, Dickinson, Franklin, USA) for 24 h at 37°C. Genomic DNA was extracted with a HiGeneTM Genomic DNA Prep kit (BIOFACT, Daejeon, South Korea), according to the manufacturer's instructions.
The short-read sequencing library was prepared with an Illumina® DNA Prep kit (Illumina, San Diego, CA, USA). Sequencing was performed on the Illumina MiSeq platform (Illumina) using the Illumina MiSeq reagent kit V3 (300 bp, paired end). The long-read sequencing library was prepared using an Oxford Nanopore Ligation Sequencing Kit (Oxford Nanopore, Oxford, UK). Long-read sequencing was carried out on a MinION sequencing device (Oxford Nanopore) equipped with a MinION flow cell (R9.4.1, Oxford Nanopore). Illumina sequencing produced 1,244,607 paired end reads (433,289,083 bp), while 122,763 reads with an average length of 1,839 bases were obtained from Oxford Nanopore sequencing.
De novo genome sequence assembly was assembled performed using a Flye assembler (v. 2.9) [6] with default options. Adapter sequences from short reads were removed using TrimGalore (v. 0.6.7) [7] with the 'paired' parameter. Errors in the draft genome assembly were corrected with Pilon (v. 1.24) [8] with default parameters. Gene prediction of the chromosomal sequence was performed with Prokka (v. 1.14.5) [9]. The completeness of the genome assembly was assessed using BUSCO (v. 5.2.2) [10] with the OrthoDB v10 bacterial (bacteria_odb10) database.
The complete genome sequence of L. fermentum JNU532 consisted of one circular chromosome with a guanine + cytosine (GC) ratio of 51.5% (Table 1). A total of 2,113 genes, including 15 rRNA and 57 tRNA, were predicted in the genome (Fig. 1). The genomic information of L. fermentum JNU532 could provide insight to future research on the characteristics of this strain for functional food and feed supplements (Table 1).
| | L. fermentum JNU532 |
| --- | --- |
| Total genome length (bp) | 2,077,416 |
| GC content (%) | 51.5 |
| Depth | 96.0 |
| Genome completeness (%) | 99.2 |
| Protein-coding genes | 2,041 |
| tRNA | 57 |
| rRNA | 15 |
Download Excel Table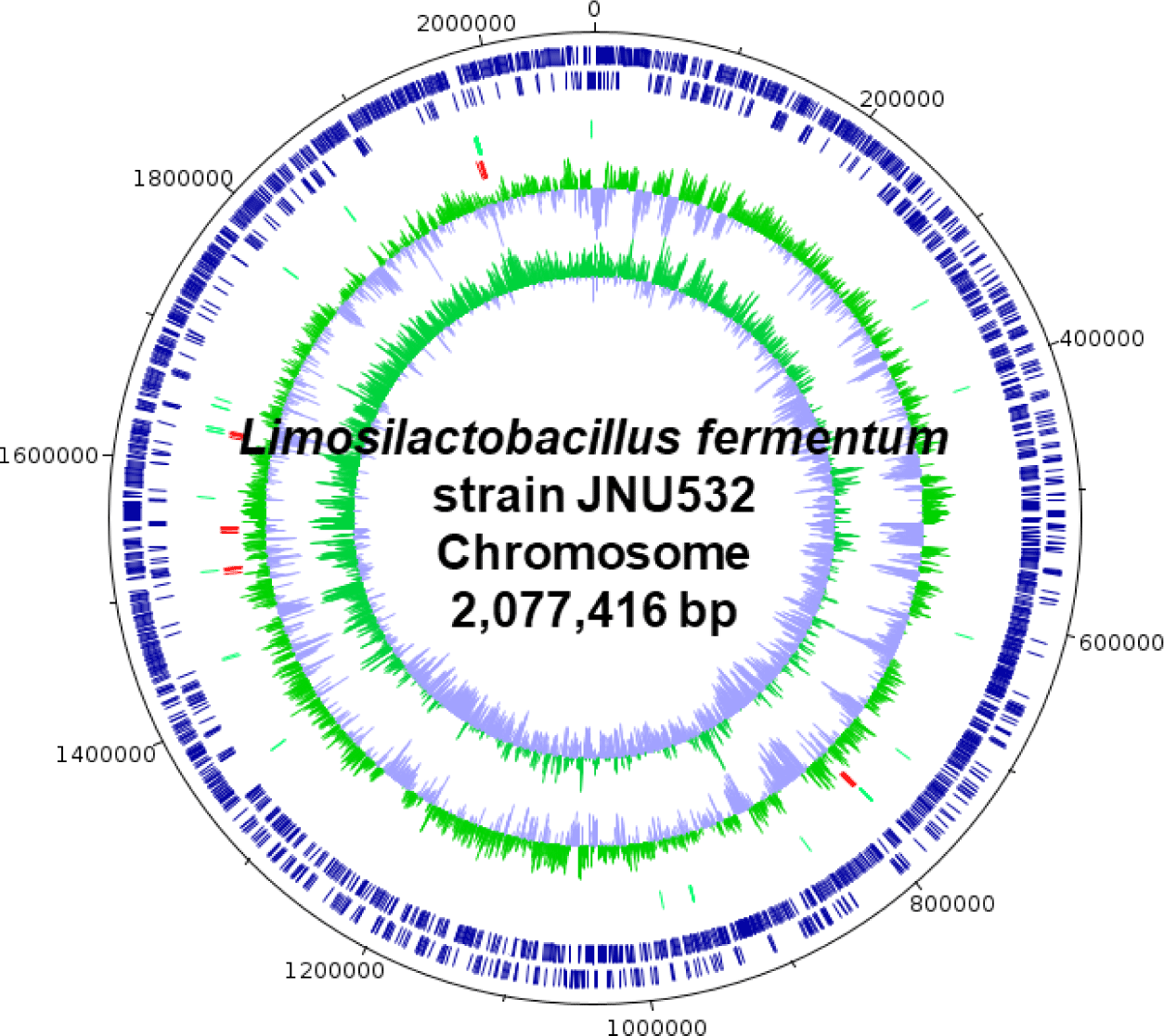 Download Original Figure