NEED FOR AN ALTERNATIVE SOURCE OF MEAT
Livestock are a potential source of emerging pandemics
Historians and evolutionary biologists now comprehend infectious diseases as the forces that selectively decide our future and genome. Dietary patterns of domesticated animals along with the environment drives the emergence of such infectious diseases. Proximity and interactions between humans and the animal populations are the major underlying causes of this phenomenon [1]. The recently emerged and ongoing COVID-19 pandemic is one such example, which is assumed to have originated in Wuhan, China [2,3]. Origin of this virus is possibly via a zoonotic transfer from forest-based reservoir animals to humans [4,5]. Zoonotic diseases are prone to emerge and re-emerge, whereby their incidence and frequency are intricately linked and based on the agricultural-environmental nexus. Further, a similar study has provided molecular evidence of zooanthroponosis, the transmission of disease from humans to animals [6,7].
On a global scale, emerging infectious diseases (EIDs) and growing hotspots are based on demographic, environmental, and biological factors (Fig. 1). Interestingly, these two aspects have been reported to be correlated with the rise of zoonotic EIDs, whereby forest encroachments enhance/elevate this risk.[8]. There has been a significant increase in the occurrence of EIDs. Reportedly, around 73% of them (roughly accounts to 335 EID events occurred between 1940 and 2004) are zoonotic origin [6,9]. Livestock not only contributes majorly to global warming but it also plays adverse roles in zoonotic EIDs. Maintaining health, performance, and production of livestock has turned out to be exceedingly difficult. Although constant searches for better animal feeding system to improve healthiness and productivity of livestock animal are in progress, no significant advancements suitable for existing or future populations have been discovered yet. In general, feed supplements, such as subclinical dosage of antimicrobials, plant extracts, probiotics, prebiotics, or a combination of them control livestock infections [10–14]. Although such measures are taken, EIDs and food-borne outbreaks, global warming, huge land usage, and forest encroachments are still on the rise and inevitable.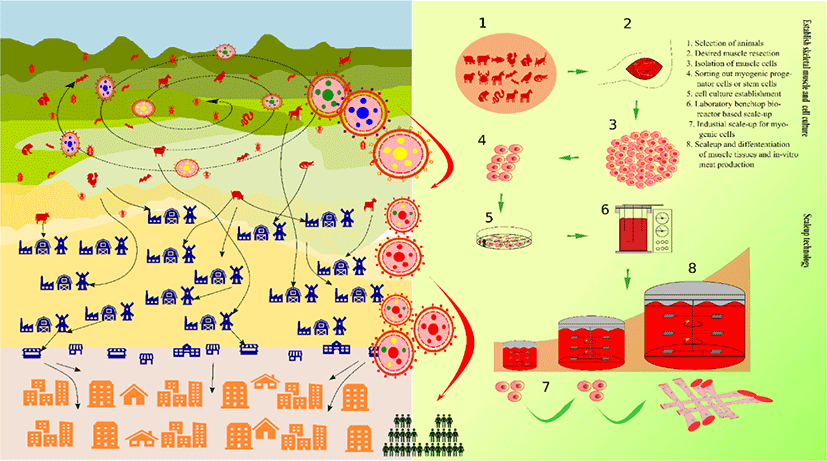 Download Original Figure
Meat as preferred protein source
Meat is a reliable source of protein and energy. A majority of the world population constitute meat-eaters. Evolution and social interactions are the major reasons that have accounted for our carnivorous nature. Our ancestors moved from the hunter-scavenger lifestyle to animal farming by domesticating wild animals as a custom that ensured food security. However, such practices have become a threat to the planet's biotic and abiotic resources in the contemporary times [15,16].
It is estimated that by 2100 the world population would increase by at least 9.6–12.3 billion, a number that is enormous as compared to the current scenario [17]. Furthermore, malnutrition is currently a significant problem worldwide. To overcome global hunger and undernutrition, the overall push towards food security has improved sustainable food production. Although food production has improved qualitatively and quantitatively, global availability of resources often leads to various environmental, food-related, and health issues [18–20]. It is quite evident that anthropological meat-eating affects climate change to a great extent. However, the global population cannot be forced to abandon meat consumption. Thus, novel technology-based innovations that can help overcome such issues by developing alternative forms of meat which can be multivalued based on health and environmental factors are of utmost importance.
Substantial advancements in livestock can be witnessed since the commencement of the industrial revolution. The future of livestock relies on the present technological revolution, now possible with the state of the art technologies in robotics and sensing toolkits [21]. Food engineering has unlocked many such solutions till date, an alternative to animal meat being one of them. With the advent of breakthrough milestones in stem cell technology (Fig. 2), it is now possible to direct stem cells towards highly differentiated cells, for instance, satellite cells (SCs) can be directed towards skeletal muscle cells in many animals [22,23]. A single cell can be used to produce massive quantities of skeletal muscle cells by way of stem cell technology which is better known as in vitro meat (IVM), in vitro meat agriculture (IMA), or cultured meat; this innovation is a promising alternative to livestock. In a news feature in October 2009, Jeffrey L. Fox highlighted IMA's potential to be served as a "test tube made of meat" by 2022 [24]. In August 2017, Amber Dance featured IMA approach as an option to meat and other animal-derived products, such as milk, eggs, and even leather. Therefore, IMA is a promising alternative to meat, whereby it is a multifaceted solution for food, health, and environmental issues [25]. The fact that IMA-derived products can be customized according to one's needs is advantageous over conventional animal farming. In contrast, customization of livestock animals, such as genetic modifications, feed modifications, usage of antibiotics and synthetic hormones, etc., which are carried out for the sake of better animal performance, marbling scores, and carcass weight, often can create hurdles.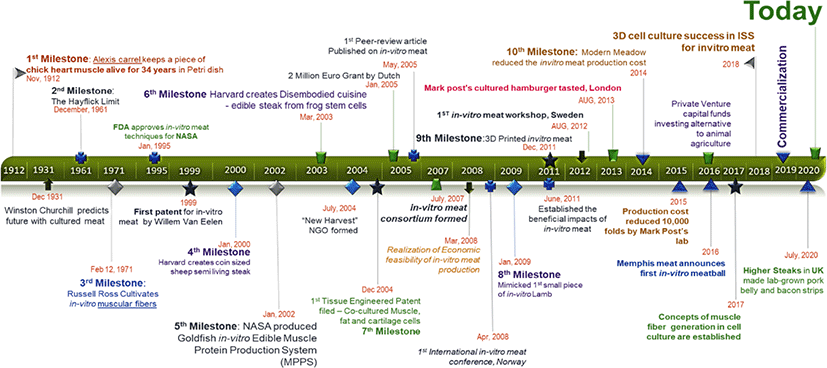 Download Original Figure
Although IMA is in its infancy stage at present, future possibilities that lie ahead are larger than expected, as witnessed in case of other technological innovations. Bovine cultured meat was commercially produced first in 2013. Since then, many startups have risen producing a variety of animal culture meat and products. At least 35 such startups worldwide have exponentially produced poultry, bovine, pork, and marine animals, including salmon, other fish, shrimps, since 2013, covering 85% of the total cultured meat market size. On the other hand, horse, kangaroo, mouse, and other animal types cover share of this market [26].
Need for revision of regulations for cultured meat production
Although IVM is gaining enough attention, its production has not been streamlined. To date, startups follow the necessary measures for IMA and the cultured meat is considered safe. However, no government has assembled regulatory bodies that completely assesses the safety parameters required for producing IMA. Cultured meat production is bound to face investment crises in the absence of such regulatory bodies. Thereby, the industries expected governments to set up regulatory guidelines for large-scale production. Between July and October 2018, the Departments of Health and Human Services announced in public meetings the joint development of a regulatory framework for cell-cultured meat production, including hazards and labeling. Services of the U.S. Food and Drug Administration (FDA) and U.S. Department of Agriculture (USDA) Food Safety and Inspection Service (FSIS) hazard analysis and critical control point (HACCP) are well documented. In case of cell-cultured meat, both the agencies will work together; FDA's risk base approach coupled with FSIS's regular inspection oversight approach are considered to mitigate contamination problems during cell culture or cell-cultured meat production [27].
Both the FDA and USDA have assured that this regulatory framework can be successfully implemented and guarantees safety. These agencies have undertaken the responsibility to monitor initial stages of cell culture and their multi-stage governance has agreed to regulate the production and labeling of cell-cultured meat [28,29]. On March 7, 2019, USDA-FSIS and health and human services (HHS)-FDA jointly announced the formal agreement that addresses the joint regulatory frame for cell-culture meat production. The agreement includes inspecting and overseeing human food produced by cell culture, derived from cell lines of USDA-amenable species [30].
There lacks an appropriate direction that allows choice of cells for cell-cultured meat production, as of now. The underlying technology and strategy rely on stem cells or precursor cells, which are of many types. In addition, right from proliferation to differentiation of the skeletal muscle cells, various culture conditions and materials, including the use of animal-based serum, encounter many ethical and technical issues. Thus, the scientific, ethical, and legislative issues that span collection of tissue samples up to mass cultivation must be crucially considered and successfully resolved.
Moreover, use of genetically modified organisms (GMOs) or engineered products, such as growth promoters and serum alternatives, in cell culturing or cell-cultured meat production is a great challenge. The harvested cells should be free of any microbial contamination, including bacteria, fungi, and viruses. Contamination by other genetic materials, such as drug-resistant plasmids, should be monitored as well. Further, presence/use of toxic substances, allergens, and any adulterants should be avoided. Moreover, biomass produced from microorganisms, such as microalgae, is the alternative potential source of cell culture media [31]. Recent amendments of the regulatory system by the EU (European Union) and US-based aforementioned bodies are expected to accelerate this technology in the forward direction in both research and industry. However, the current regulations are primitive; thus, only minimal extent to mitigate the hazards and future risks are possible as of now. Additionally, regulatory bodies must periodically update these guidelines to prevent any unexpected hazards effectively.
CONCLUSION
Cell-cultured meat can be an essential product that has the potential to meet our future food demands. IMA aids in animal welfare, reduction in EIDs, sustainable utilization of land and other available resources, and exhibits environmental benefits. Present focus of research should be the development of alternatives for media composition (for example, serum-free media), complete in vitro maturation of the cells, controlled SC cultivation, development of 3D matrix and microcarriers, appropriate selection of physical and chemical signals for specific cell types and regulation of cell proliferation, differentiation, and maturation, which is not only compatible with physiochemical properties but also edible [41,55,63]. Past and ongoing pandemics along with the increasing global demands for meat compels us to realize the emergent need for developing alternatives for livestock. These technology-based alternatives will ameliorate economic and food crises, human loss and suffering, and emergence of new infectious agents, thereby promising a better and safer future.